First Day Out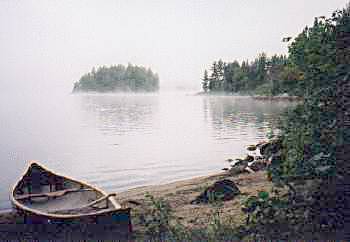 A six day route
And promising gray and drizzle
No matter
It was the great "out there"
Of rocks, lichens
Gull shit
And leaning balladeer pines.
Good paddle selected
Bound to blister
The right hand's web
Noses covered with lotion
And the old Chev
Left ticking in the heat.
Planned about seven weeks back
Ministry top maps
And a host of visuals
From our fore-runner.
Three beginner's hours out
Into the Bay
Look to one o'clock
And a cream coloured
Rock face
Bout fifteen feet high
Starts the river course
Can't go wrong then
'Til the forks
Right side has a red
Shingled cottage
Take that one
Supper will find you
Up-river at the falls.
Camp to the left
On softer ground
Nothin' worse than a rock
Gainst the spine
First night out.
But those "beginners' hours"
Insulted by a nor' easterly
Stretched from three
Into five and a half
Sun was lowering as we
Saw the rock face
Both of us wet
From paddle back splash
In contrary waves.
Inside the river
Probably better
We told ourselves
As winds lessened
And bugs largened.
Then some shallows
And a sloppy drag-over
Full half hour
Of mossy rocks
And tiny rivulets – giggling.
Giggling at us.
No distinct sun
But an inkling
That something helpful
Had slipped well below
And behind the tree-line.
Ravens croaked out of view
Peeper frogs warming up.
An hour's paddle
In water deep enough
And behold the forks, Stu,
The forks!
Two cottages – red shingles – Yep
No one home.
And the happy hissing
In minutes
Of the blessed cataract.
Not quite a day
For the great Champlain
But passable.
Night hawks cheered
For the paint-scratched hull over-turned
For the small tent up
The campfire ring of stones
And the minute steaks a-sizzle.
The aches all felt good.
Clouds rolled back
For a half-moon's majesty.